Share:
Gadsden Alabama
- Great Golf at Twin Bridges and RTJ Silver Lake
By David Theoret
As golf destinations go, Gadsden, AL is well down most golfers' list; if it weren't for the Robert Trent Jones Golf Trail, it probably wouldn't even be on the radar. And, if the truth be told, the RTJ Trail course at Silver Lakes is what keeps golfers coming back.

I am speaking about Silver Lakes, a 36-hole facility on the outskirts of town. Surrounded by the Appalachian foothills and Lee's Lake, Silver Lakes features the most unique and aptly named courses on The Trail: Heartbreaker, Backbreaker, Mindbreaker. All 36 greens (including the short course) boast Champion ultra-dwarf putting surfaces, arguably the best on The Trail. Another trait they share is that they are all elevated; some more so than others. Silver Lakes takes you on a journey through hardwood and pine forests, wetlands, and grasslands. You'll encounter dramatic elevation changes all while enjoying the beauty of Northeastern Alabama's wonderful landscape. There is one thing for sure: any of the four courses will challenge you both physically and mentally.

Many golfers use the Short Course as a warm-up before heading out to play the championship courses. When I hear the words "short course," I immediately think of conditions that are inferior to what you will find on a full-length golf course. Not so on the Short Course at Silver Lakes. It's a collection of 9 par 3 holes of championship course caliber. You'll find some significant elevation changes, well-manicured bunkers, and undulating Champion ultra-dwarf putting surfaces. Eight of the nine holes require a carry over water, culminating on the 9th, which plays 184 yards from the Orange Tees, and is primarily all carry.

Each course is special in its own right with memorable holes. Number 8 on Mindbreaker is an interesting par 4 that plays 358 yards from the White Tees. The fairway slopes to the right with a creek at the bottom so your best tee shot is something controllable down the left side. Anything right of the middle of the fairway stands a good chance of trundling down to the water. A good drive will leave a short iron into a triangular-shaped green with a pot bunker left and a large, deep bunker on the right. The green slopes severely from back to front. Did I mention you'll need to carry your approach shot over the creek?

The Heartbreaker 9 builds you up from your tee shot on the first hole right through to your last putt, but nothing is more challenging than the last three holes. Number 7 is the course's signature hole and the first encounter with water. Your line from the very elevated tee box is the bunker on the right; that will take the ponds on the left out of play. Once your drive flies downhill and lands in the fairway - or wherever - the rest of the hole plays extremely uphill. While the landing area on your layup may seem small and complicated by the bunker on the left, you'll have a short pitch shot into a very wide but shallow green protected by a deep bunker in front.

Number 8 is a challenging, downhill par 3 that plays 156 yards and is all carry over water. The green is large and could be a 3-club difference depending on pin placement. Deep bunkers await errant shots on either side of the green. Number 9 is a 353-yard par 4 that requires you to cross - and avoid - the water twice. This dogleg left features water all the way down the left side and in front of the green, with a wide landing area off the tee. A good drive will leave a short to mid-iron into an oddly positioned green protected with water in front and left. It's the layout's most difficult par 4 and the course's #1 handicap.

Backbreaker starts with a stern test of golf; your approach shot will give you a good idea of how the course got its name. It's a par 4 that plays 360 yards from the White Tees although because it's predominantly uphill it may play closer to 400 yards. A good drive will leave a mid to long iron into a very elevated green protected in front by a deep bunker. The hills behind the green may provide some relief for approaches hit too long.

Twin Bridges Golf Club is owned by the city of Gadsden and, as municipal courses go, it's quite a pleasant surprise. As you stand on the verandah behind the clubhouse, you can tell that there are some significant elevation changes in-store and as you make your way around, you won't be disappointed. You'll also encounter several hidden hazards such as the creek that crosses the fairway in front of the 7th green. It could be a problem if you're long off the tee. Looking at the scorecard, Twin Bridges gives you 13 different yardages to choose from.

One very memorable hole is Number 5, a 521-yard par 5 that is chock full of pitfalls. Standing on the tee box, there seems to be only a small landing area, with a sad trap encroaching on the left side and wetlands on the right. Believe me, there is plenty of room; just carry the trap. Push your drive right and you'll likely never see it again. Choose your layup stick carefully; you'll want to hit it short of the wetlands that front the green while at the same time avoiding the bunkers on either side. A single deep bunker guards the front right side of the green.

Number 11 is another challenging par 5. There's a canal all the way down the right side that shouldn't come into play until your second shot and a good drive will allow you to get home in two. There are pine trees that seemingly stand in the middle of the fairway if you hit your ball down the right side. There's also a large gap between the pine trees and the woods on the right which can create a clear shot to go for the green in two. The well-undulated green sits elevated above the fairway and may require an extra club. A large bunker guards the front. Par is a good score here.

The Holiday Inn Express and Suites in Gadsden is a great place for golfers. Not only do they offer freshly appointed rooms and a hot breakfast buffet, but they are also conveniently located to both Twin Bridges Golf Club (15 minutes) and Silver Lakes (20 minutes).
Holiday Inn Express goes the extra mile with the little things, like free coffee and tea and Wi-Fi connections in every room and common area. The rooms are spacious with either 1 king or two queen beds that are extremely comfortable 50" TVs, Keurig coffeemakers, and best of all, lots of outlets. The black-out shades are a nice touch and keep the room dark at night.

For more information on planning a golf vacation to the Gadsden, Alabama area, visit them online at www.greatergadsden.com.

Article Tags: Robert Trent Jones Trail, Silver Lakes Golf Course, Heartbreaker golf course, Mindbreakerr Golf Course, Backbreaker Golf Course, Golf in Alabama, Golf in Gadsden Alabama,
Revised: 12/22/2021 - Article Viewed 392 Times
About: David Theoret
---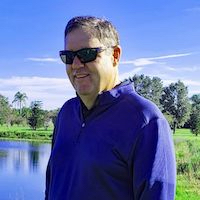 David Theoret has been in the golf and golf travel industry for over 10 years, primarily selling online advertising. For the past seven years, he has also been a golf writer, reviewing golf courses, resorts, destinations, equipment, golf apparel, and training aids - the latter of which never seems to help. David's articles and reviews have been posted on many golf travel and equipment websites.

Growing up in Southwestern Ontario, Canada, it was naturally assumed he would play hockey. Beginning at the age of 3 and continuing into his late 30's, he did just that. However, after one too many pucks to the head, he realized that golf was a lot easier on the body (whoever said hockey players were slow) and took the game up.

After moving to Florida and accepting a position with TravelGolf Media (now part of GolfNow) his love for the game grew exponentially. Most Saturdays you will find him on a course somewhere in Florida or on the practice range reinforcing his bad habits. David plays to a 10 handicap - unless there is money involved in which case it goes considerably higher. He currently resides in Lakeland, FL with his wife Belinda and their two "kids", Madyson and Molly.

---
More Articles by David Theoret