Share:
Craft Farms Golf Club
Some of Arnie's Best Work
By David Theoret
The Gulf Shores, Alabama area is a beachgoer's dream: pristine white sand beaches, all kinds of beach bars, shopping and OWA, an entertainment park with a downtown area, restaurants, and an amusement park.

Gulf Shores is also known for its fantastic golf courses which are some of the nicest in the country. Honours Golf, which is part of Troon Golf, the largest and for my money, the best golf course management company in the country, has two facilities here, the 27-hole Peninsula Golf & Racquet Club and the 36-hole Craft Farms. Each course has its own distinctive coastal feel; both are must plays if you're in the area.

Craft Farms is home to the only two Arnold Palmer golf courses in Alabama that are accessible to the public: Cypress Bend and Cotton Creek. Both courses challenge golfers every step of the way with the natural beauty of Baldwin County serving as a backdrop. You'll play down Bermuda fairways, around massive live oaks draped with Spanish moss and towering pine forests. You'll also find plenty of water hazards in the form of numerous lakes, creeks, and wetland areas that give way to Tifdwarf Bermuda greens.

Cypress Bend has received a 4-1/2 star rating from Golf Digest. As you play your way around the course, you'll find plush conditions from tee to green, sprawling bunkers, and undulating greens that can leave you scratching your head. The course has a coastal feel to it with water coming into play on every hole. Wide fairways and generous landing areas make this Palmer masterpiece a joy for players of all levels.

There were a few holes that I won't soon forget. Number 4 is a 372-yards par 4 that is a challenging golf hole! You'll need a long accurate tee shot that avoids the bunkers on either side followed by a pinpoint approach shot into a T-shaped green with bunkers on either side. A back-right pin placement can be especially trying.
Number 13 is my favorite hole on the course. It's a risk/reward par 5 that plays 517 yards from the Blue tees. The hole doglegs sharply to the right with water down the right side and a long bunker at the turn. If you can carry the bunker on to the elevated fairway or hit your tee shot just right of it over the water and you can have a go at the green. More water guards each side of the elevated green and three bunkers protect the front. Par is a good score here.

Cotton Creek seems to be the favorite course and features tree-lined and rolling fairways as well as large undulating greens. The course is extremely playable for all golfers, whether you're playing the forward tees or are the tips at over 7,000 yards; it's all about challenge and playability. Golf Digest has rated Cotton Creek 4 stars.

Cotton Creek's 6th hole is a par 4 that plays 382-yards. It is not only a beautiful golf hole, but it's also ranked the toughest on the course. You need to play your tee shot down the waterline and over a lake to the fairway; hit through the fairway and you may very well find the bunker. A well-placed tee shot will leave an approach shot back over the same body of water to a small green protected by sand on all sides. Par or birdie on this hole is quite an accomplishment!

If I were naming holes, the par 4, 372-yard Number 11 would be called "What Creek." There's a sign on the tee box that says "230 yards to the water," however standing on the tee box, you can't see it. Hit a good drive past the 150-yard marker and your likely to say "Oh, that creek!" But not just any creek, Cotton Creek! A good drive will leave a mid-iron into an angled green with a deep bunker on the left and a lot of undulation in the green.

With 27 holes of golf at Peninsula and another 36 holes at Craft Farms, either one is the perfect venue for your next outing or tournament. The staff at either course will help with everything from pre-planning and setup, to food and beverage and the awarding of prizes. The tournament staff will see to it you and your guests are well taken care of while the culinary team will create a menu that tempts your palettes.

Speaking of palettes, Chef Kurtis Krum heads up the culinary staff at both courses and uses his creative expertise to create delicious dishes from scratch. After all, how many golf courses bake their own bread? It makes the fresh sandwiches taste that much better!

I had the opportunity to speak with Jamey Davis the Superintendent at Peninsula Club about what makes his property so special. Jamey said that the course being built on a sand dune is both a blessing and a curse, the blessing being they could get 8 inches of rain in the morning and because it drains so well, be able to have carts out in the afternoon. He also talked about how unique the property is with the Bon Secours wildlife preserve abutting the property to the east, historic Ft. Morgan to the West, Bon Secours Bay to the north, and the Gulf of Mexico to the south.

Article Tags: gulf shores, AL, Alabama, Troon, Troon Golf, Honours Golf, Arnold Palmer
Revised: 10/22/2020 - Article Viewed 2,032 Times - View Golf Course Profile
About: David Theoret
---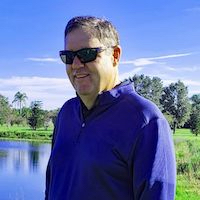 David Theoret has been in the golf and golf travel industry for over 10 years, primarily selling online advertising. For the past seven years, he has also been a golf writer, reviewing golf courses, resorts, destinations, equipment, golf apparel, and training aids - the latter of which never seems to help. David's articles and reviews have been posted on many golf travel and equipment websites.

Growing up in Southwestern Ontario, Canada, it was naturally assumed he would play hockey. Beginning at the age of 3 and continuing into his late 30's, he did just that. However, after one too many pucks to the head, he realized that golf was a lot easier on the body (whoever said hockey players were slow) and took the game up.

After moving to Florida and accepting a position with TravelGolf Media (now part of GolfNow) his love for the game grew exponentially. Most Saturdays you will find him on a course somewhere in Florida or on the practice range reinforcing his bad habits. David plays to a 10 handicap - unless there is money involved in which case it goes considerably higher. He currently resides in Lakeland, FL with his wife Belinda and their two "kids", Madyson and Molly.

---
More Articles by David Theoret
More Related Articles